Welcome to Eugene Timbers Fútbol Club
Eugene Timbers Fútbol Club (formerly Eugene Metro Futbol Club) is a top-quality soccer program for competitive youth players in the Eugene-Springfield area. All training is provided by professional USSF-certified coaches.
We offer programs for kids of all ages. Our youth and high-school teams play in the Oregon Youth Soccer League against the best teams in the state, and sometimes travel further to play in showcase tournaments and regional championships. We also offer introductory programs for younger kids, starting at four years old for Little Timbers.
---
ETFC 3v3 Challenge Cup 2016 Sponsored by Bigfoot Beverages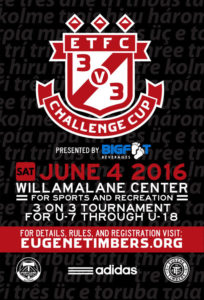 This year's ETFC 3v3 Challenge Cup is on Saturday June 4, 2016 and will be held at the Willamalane Center for Sports and Recreation in Springfield. Last year we had 120 teams participating in the one-day tournament. The team entry fee is $130 and the deadline for Registration is Sunday May 22, 2016. Please check out the details about the 3v3 tournament here. We hope to see many of the Eugene/Springfield soccer players participate. As long as you are playing in Kidsports, Pelada, AYSO, or other clubs in the Willamette Valley, and you have a player card through those organizations, you can participate. It is a great opportunity to play, compete, and have fun.
ETFC Little Timbers Spring Academy teams and schedule posted
The Little Timbers Spring Skills Academy and League is already in Week 2 and LT Director Porter Garrison-Terry worked hard to get the teams organized and the schedule worked out. You can find the teams and the schedule by clicking on here. Please scroll down to find the LT Spring Skills Academy and League.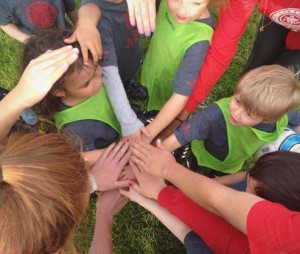 The program started April 4 and runs for 6 week through May 13, 2016. All games will be Friday evening from 5 to 7pm at LCC. The game times are 5pm and 6pm.  Go to the Little Timbers page, find your kid's team and then check the schedule. All our coaches are looking forward to this fun developmental program.
You can read more about the Little Timbers program here.
ETFC Development Academy Tryouts for 2016-17 Season open for Registration
The ETFC Development Academy is our pre-competitive development soccer program for focused soccer players born in 2007 and 2008. The Academy provides a competitive environment for these developing youngsters. Our two Academy Directors Erica Jensen for the Girls and Porter Garrison-Terry for the Boys are excited to get the new season started. The Academy Tryouts will be on May 18 and 20, 2016 for all interested soccer players born in 2007 and 2008. Please read here more details about the Development Academy. Please register online for the Development Academy Tryouts.
ETFC Youth Premier U11-15 Tryouts for 2016-17 Season open for Registration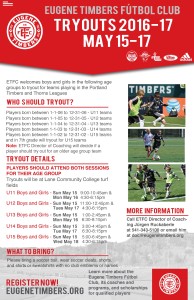 The new 2016-17 soccer season is just around the corner. We have set up the tryout registration for our Free Tryouts from May 15-17, 2016 at Lane Community College. The tryouts will follow the new US Soccer mandate that requires us to form teams in the birth year. If you need more information about this mandate please click here.  We will have tryouts for the following birth years: 2006 (U11), 2005 (U12), 2004 (U13), 2003 (U14) and we will have tryouts for all 7th graders born in 2002 (U15). Players born in 2002 and in 8th grade will remain on their current teams (Valencia and Force). You can find out more about our Youth Premier Program here. You can find out more about tryouts here.
Portland Timbers come to Eugene on June 18/19, 2016
On Saturday and Sunday June 18/19, 2016 the Portland Timbers come to Eugene to offer a unique 2-day camp. The MLS Portland Timbers are proud to offer a brand new and exciting camp program for soccer players of all ages and skill levels throughout the state of Oregon and Southwest Washington. See more details here.
Fantastic Opportunity for ETFC players and Families at LCC
Lane Community College offers a special rate for all our players and families. Please join LCC for their Grand Opening in their state of the art gymn. Drop your kids off at practice and get a workout in. LCC has a wonderful and experienced staff with some of the best equipment at hand.
ETFC parent membership is $89 for 3 months
ETFC player/coach membership is $69 for 3 months
Please visit the Lane Community College Fitness Connections website for more details. Call 541-463-3983