Welcome to Eugene Timbers Fútbol Club
Eugene Timbers Fútbol Club (formerly Eugene Metro Futbol Club) is a top-quality soccer program for competitive youth players in the Eugene-Springfield area. All training is provided by professional USSF-certified coaches.
We offer programs for kids of all ages. Our youth and high-school teams play in the Oregon Youth Soccer League against the best teams in the state, and sometimes travel further to play in showcase tournaments and regional championships. We also offer introductory programs for younger kids, starting at four years old for Little Timbers.
ETFC Rosters for U15-18 announced
We have concluded all the tryouts for the older teams and all rosters have been announced. Please click here for details on the rosters and what you have to do if you made a team. Please make sure to read at the bottom of the page what to do if you made a roster.
Eugene Timbers FC Inaugural Auction Will Be Thursday March 5, 2015
Mark your calendars for the Inaugural ETFC Auction and Celebratory Event. ETFC provides opportunities to over 600 kids in and around the Willamette Valley.  In order to do so, we must find alternative ways to fund our high level coaching, field rental and equipment costs, administrative needs as well as our scholarship program that provides opportunities for all children to participate.
The auction will be an opportunity to have fun and contribute to the ETFC family.
When:  Thursday March 5, 2015 at Valley River Inn. .
If your interested in being a volunteer or contributing an auction item, please contact auction director Colin McMillen.
Contact info: Colin McMillen, Email: colinpmcmillen@aol.com, Mobile: (541) 255-5350
Eugene Timbers FC Winter Indoor Events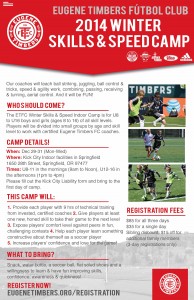 Over the winter, ETFC will offer a number of indoor activities for both ETFC players and soccer players in the community. If you are age 4-10 you can sign up for our Little Timbers Winter Indoor Skills Academy which runs for 3 weeks in December and 3 weeks in January. If you are age 10-14, you can register for 7 Winter Indoor Skill Development Program on Friday or Saturday. We do work on footskills in the first hour and then play futsal in the second hour. For all players age 8-16, we will offer the 2014 Winter Skills & Speed Indoor Camp at Kick City. Please make sure to register online for those indoor events here.
ETFC Scholarship Night at Mazzi's
Thanks to everyone who came out to the ETFC Scholarship night at Mazzi's. We received a check for almost $300 from Mazzi's and want to thank Mazzi's and everyone who came out that night. If you want to help and support our scholarship program you can donate directly to this excellent program. Click here for an electronic donation.

Eugene Timbers FC TOP Soccer Winter 2014/15 Session
ETFC will run its popular Winter Indoor session at Kick City on Mondays from 5-6pm starting on December 1, 2014.  The sessions will be one hour long from 5:00pm-6:00pm. Please make sure to register online for this Winter TOP soccer session with Jeremy Flores and Robin Bostwick. There is a great article by Coach Robin in the most recent newsletter. More details can be found here. You will need to register your athlete online via our Registration system.  Register Now.