Welcome to Eugene Timbers Fútbol Club
Eugene Timbers Fútbol Club (formerly Eugene Metro Futbol Club) is a top-quality soccer program for competitive youth players in the Eugene-Springfield area. All training is provided by professional USSF-certified coaches.
We offer programs for kids of all ages. Our youth and high-school teams play in the Oregon Youth Soccer League against the best teams in the state, and sometimes travel further to play in showcase tournaments and regional championships. We also offer introductory programs for younger kids, starting at four years old for Little Timbers.
---
2nd Annual ETFC Auction on Friday March 4, 2016
Please mark your calendars for the Second Annual ETFC Charity Auction to be held on Friday March 4, 2016.  We have made a few changes to last year's very successful event to make this auction an even better event.  Our dinner will be a truly special menu prepared by both Dr. Glenn Keiper (bar-b-que and smoked fare) and PC Market of Choice!
This year – ETFC takes the "babysitter angst" out of the evening!  Parents will have the opportunity to have younger children attend a play session from 6 – 10 p.m. at BOUNCE (located directly across the parking lot from Venue 252) for the entire evening. Contact BOUNCE to make a reservation at 541-343-4222 when you buy your tickets.  In addition, this year we are running a "sponsor a coach" option for the event.  We'd love to get our coaches out there to mingle with us, so talk to your team mates and sponsor a ticket for a coach!
ETFC Spring Break Camp from March 22-24 at LCC
The annual Spring Break Camp is open for Registration. As every year we will offer the camp for the younger kids from 9am to noon (ages 6-11) and for the older kids from 1-4pm (ages 12-17). The camp will have an excellent coaching staff and will conclude on Thursday with the famous World Cup tournament. More details can be found here. The camp is open for ETFC and non-ETFC players. Register with the early bird discount by March 12 here.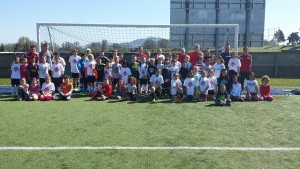 The Game Needs More Referees?
We all appreciate the work of the men and women who officiate our games. Over the last few years the number of referees has stagnated and the amount of games has gone up which leads to a significant shortage of referees in our community. The growing number of recreational and competitive games along with high school games in the fall has intensified the shortage of referees. Without referees there will be no games. We are looking for individuals who have a passion for the game, who are at least 13 years old, and love to make decisions. Referees have job security. There are so many games in town that you can work as much as you want. If you are good at your job, you will rise through the ranks and you can work high school games and possibly college games. ETFC runs a U10 Valley Academy League as well as a Little Timbers league in which we would love to use those refs. Are you interested now?
The next available Grade 8 Referee course is on Sunday February 7, 2016 from 9am – 5pm at Willamalane. 
If you are interested please click here to find out more information and how to register. In addition, you can also inquire more information about this from the new OYSA Grassroots Coordination John Galas. You can email John at jgalas@oregonyouthsoccer.org
Fantastic Opportunity for ETFC players and Families at LCC
Lane Community College offers a special rate for all our players and families. Please join LCC for their Grand Opening in their state of the art gymn. Drop your kids off at practice and get a workout in. LCC has a wonderful and experienced staff with some of the best equipment at hand.
ETFC parent membership is $89 for 3 months
ETFC player/coach membership is $69 for 3 months
Please visit the Lane Community College Fitness Connections website for more details. Call 541-463-3983