Welcome to Eugene Timbers Fútbol Club
Eugene Timbers Fútbol Club (formerly Eugene Metro Futbol Club) is a top-quality soccer program for competitive youth players in the Eugene-Springfield area. All training is provided by professional USSF-certified coaches.
We offer programs for kids of all ages. Our youth and high-school teams play in the Oregon Youth Soccer League against the best teams in the state, and sometimes travel further to play in showcase tournaments and regional championships. We also offer introductory programs for younger kids, starting at four years old for Little Timbers.
Little Timbers Team Assignments and Game Schedules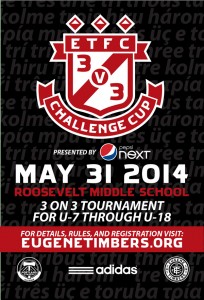 The first week of the Little Timbers has been very sunny and the forecast for this week looks awesome. The team assignments and the game schedules are posted here. All games will be at Lane Community College. A Game Field map has also been posted. The games start at 5pm and at 6pm. Please check which team your son or daughter is on and then find the schedule. Please click here for the Little Timbers team assignments and game schedules.
Eugene Timbers Youth Premier Tryouts May 10-13, 2014
The U11-14 boys and girls soccer tryouts for the 2014-15 season will be from May 10-13 this year. Please find out all the details about the Eugene Timbers tryouts here. If you have questions about the Youth Premier Program, Fees, Scholarships, and how to register you can find all the answers here on this website.
Eugene Timbers U10 Academy Tryouts May 14/5, 2014
The U10 academy for boys and girls will take place on Wednesday and Thursday, May 14/15, 2014. The boys will tryout on Wednesday from 4:30-6:00pm and the girls will tryout on Thursday from 4:30-6:00pm. Both tryout sessions will be at Lane Community College with Academy coaches and Academy Director Dave Peterson. We encourage all talented soccer players (current 3rd graders) to join us for those free tryouts. Learn more about the U10 academy here. Or come to our tryouts and have your kid play while you can ask some questions. Please register online for the U10 academy tryouts here.