Welcome to Eugene Timbers Fútbol Club
Eugene Timbers Fútbol Club (formerly Eugene Metro Futbol Club) is a top-quality soccer program for competitive youth players in the Eugene-Springfield area. All training is provided by professional USSF-certified coaches.
We offer programs for kids of all ages. Our youth and high-school teams play in the Oregon Youth Soccer League against the best teams in the state, and sometimes travel further to play in showcase tournaments and regional championships. We also offer introductory programs for younger kids, starting at four years old for Little Timbers.
---
ETFC 3v3 Challenge Cup 2016 Sponsored by Bigfoot Beverages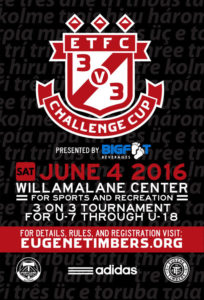 Hello 2016 ETFC 3v3 Challenge Cup coaches, players, managers and families,
I wanted to thank all of you for a very competitive, fair, and fun event last Saturday, June 4, 2016. We had 111 teams, 243 games in 15 flights and while it was hot, I was impressed with the level of play. I appreciate all of your cooperation, support and sportsmanship throughout the day.
I want to thank our sponsors Bigfoot Beverages and Home Comfort for their contributions to the Event as well as all the Field sponsors.
Those of you who participated in the Raffle, the winning numbers will posted later today on our website.
http://eugenetimbers.org/
You can see the list of winners and runners up on our website in the next couple days.
http://eugenetimbers.org/camps-events/3v3-challenge-cup/
Raffle Ticket winners at the ETFC 3v3 Challenge Cup
Thanks to all of you who participated and supported our ETFC scholarship program. Congratulation to all of the winners. ETFC 3v3 Challenge Cup Raffle tickets Numbers have been drawn. Thanks to Carlo Brigola for donating the PSG vs Inter tickets. Thanks to coach Bryn and Mecca for drawing the winning numbers:
Ticket # 4244548 won 4th prize. Women's World Cup Soccer ball
Ticket # 4244805 won 3rd prize. 2 Portland Timbers tickets on August 7 against Sporting Kansas City
Ticket # 4244679 won 2nd prize. 2 Portland Thorns tickets on July 9 against FC Kansas City
Ticket # 4244773 won 1st prize. 2 PSG vs Inter tickets on July 24, 2016
The winners need to check in with Jurgen at doc@eugenetimbers.org. Please make sure you can provide the winning ticket.
ETFC Little Timbers Summer Skills Camps Open for Registration
The Little Timbers Summer Skills Camps are open for Registration. LT Director Porter Garrison-Terry and his coaching staff is offering two Summer camps this year. One will be in June on 4 evenings from June 27 to 30, 2016 from 5-7pm at LCC. The other one will be offered in the morning from July 25-27, 2016 from 9am to noon also at LCC.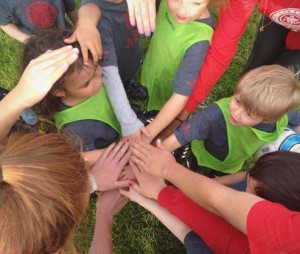 Both LT Summer camps are for kids age 4 to 10 and will provide a great curriculum of learning skills and having fun playing soccer. We are looking forward to have our Little Timbers families come out and join us for some summer camps.
You can read more about the Little Timbers program here.
Fantastic Opportunity for ETFC players and Families at LCC
Lane Community College offers a special rate for all our players and families. Please join LCC for their Grand Opening in their state of the art gymn. Drop your kids off at practice and get a workout in. LCC has a wonderful and experienced staff with some of the best equipment at hand.
ETFC parent membership is $89 for 3 months
ETFC player/coach membership is $69 for 3 months
Please visit the Lane Community College Fitness Connections website for more details. Call 541-463-3983