Welcome to Eugene Timbers Fútbol Club
Eugene Timbers Fútbol Club (formerly Eugene Metro Futbol Club) is a top-quality soccer program for competitive youth players in the Eugene-Springfield area. All training is provided by professional USSF-certified coaches.
We offer programs for kids of all ages. Our youth and high-school teams play in the Oregon Youth Soccer League against the best teams in the state, and sometimes travel further to play in showcase tournaments and regional championships. We also offer introductory programs for younger kids, starting at four years old for Little Timbers.
---
ETFC Sweatshirt Fundraiser 2015
COME TO LCC AND SUPPORT THE EUGENE TIMBERS FC SCHOLARSHIP PROGRAM'S FUNDRAISER!
Adult and Youth Hoody Sweatshirts in Black and Charcoal Gray: $25 each
Adult and Youth Crew Neck Sweatshirts in Light Gray: $20 each
All proceeds go to ETFC scholarships for players in Little Timbers, U10 Academy, and U11-18 teams.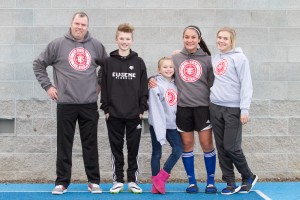 Available at the Lane Community College Soccer Field on the following dates:
Friday, October 9 from 5:30-7:00
Sunday, October 10 from 12-2:00
We will try to find someone to help sell gear during the doubleheader between Sheldon HS and South Eugene HS on October 14, 2015. The games will be at 6pm(girls) and 8pm (boys). This Emerald Derby will star many ETFC HS age players on all four teams.
Friday, October 16 from 5:30-7:30
Saturday, October 17 from 11-2:00
Cash, Checks (to ETFC), Visa/MasterCard accepted.
Poinsettia and Wreath Fundraiser 2015
Dear Eugene Timbers Families,
I know we are just now enjoying the fall season, but it is the perfect time to start our annual Poinsettia and Wreath Fundraiser.   As a club, we are again selling local Johnson Brothers Greenhouse Poinsettias (10 variety) and Wreaths, they are absolutely beautiful and so easy to sell.  
Your player can earn 30-40% on your sale back to their account!  
It is such an easy way to help pay for soccer!  Please
click here
and scroll down to the bottom of the page to get all the details.
Lane Community College Offers Great Deal
If you drop your kids off at LCC this fall you can now use their indoor gymn while your kids brave the elements outside. Lane Community College offers a great deal to all our ETFC families. For $99 you can access their top class facilities in the fall term until December 12, 2015. See more details on their website.
Little Timbers Fall Skills Academy and League Game schedules are up
Our Fall Little Timbers program offers 6 weeks of twice/week training for a total of 12 training session. All training sessions are conducted by ETFC staff coaches. Sessions are 60 minutes in length. In addition, ETFC will form teams within the program to compete in a 5-week-long, ETFC organized league.
The Little Timbers Fall Skills Academy and League is open to all soccer players from age 4-10 who want to learn more about how to improve their technical skills. At training sessions, ETFC coaches will set up small group environments in which individuals can work on specific foot skills that will teach a young soccer play how to touch and move the ball with all surfaces of his/her feet.
Find the rosters and game schedules for Little Timbers here. 
ETFC players moving on to play College soccer
Every year, Eugene Timbers FC feeds players into the college ranks. We are very proud of our student athletes that take the game to the next level. This year players on the U18 boys 96 Azzurri ETFC Alumni 2015 Boys (State Cup winner in 2014) and girls ETFC 96 Impact ETFC Alumni 2015 Girls (State Cup winner in 2014) will play college soccer. Please click here to learn more where our ETFC players will play in the next few years.
We wish all our players all the best in their current battle to defend their state cup title from last year and we wish them all the best in their college environment. The entire coaching staff at ETFC is proud of their accomplishments in club and high school and wishes them all the best in the future.